Things to See & Do
TRAIL SYSTEM
Walk seven miles of trails through crops, prairie, and woodlands. Trail signs will guide you along the way. Click Here for a detailed trail map.
PICNIC AREA
Picnic on top of three different watersheds and enjoy a 360 degree panoramic view of the area including; Lake Mendota, the Capitol, and Black Earth Creek Valley.
STONE FENCE
Walk along an historic stone fence built over 150 years ago when settlers cleared the glacial debris from the land.
PRAIRIE RESTORATION
Watch the ongoing process of restoring the land to 6 different prairies including an Oak Savanna.
CROPS
See a variety of crops including Sunflowers. Learn what they are, where they come from and how they are used.
WILDLIFE
See the tremendous abundance of grassland birds that feed on the Prairies, Sunflowers, Sorghum, Winter Wheat, and Oats.  Some of these species are rare.
WATERSHEDS
Stand on top of three different watersheds to enjoy the view of Lake Mendota, the Capitol, and Black Earth Creek Valley.
GEOLOGY & GLACIER FORMATIONS
Learn how the glacier formed Pope Farm Conservancy 10,000 to 15,000 years ago. View three different recessional moraines, three watersheds, and thousands of rocks that give you a feeling of the power of the glacier that once covered the land.
NATIVE AMERICANS
Learn about 12,000 years of human history in this area.  Find out where Indian villages, trails, campsites, and burial sites were located.
NATIVE AMERICAN GARDEN
Study a replica of a 1,000 year old Native American garden, and how their knowledge contributed to agriculture.
LOG CABIN SITE
Follow the route of German immigrants from Mecklenburg to the Town of Middleton in the 1800's.  Learn who they were and how they lived.
CCC SPILLWAY
Observe how erosion is being controlled today by the work done by the Civilian Conservation Corp in the 1930's.  Who was the CCC, what did they do, and why were they here?
INTERPRETIVE SIGNS
Interpretive signage will guide you through Pope Farm Conservancy to enhance your visit. Click Here for a list of our existing signage.
OTHER ACTIVITIES
Cross Country skiing (Trails are groomed by Blackhawk Ski Club)
Snow Shoeing
Sledding
Photography
Painting
Walking/Hiking
Jogging
Horseback Riding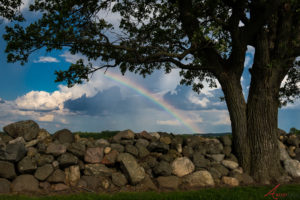 Photo by Aaron Leist